How to Order
From our Flower shop you can order Flowers and Plants quick and easy. Place your order in 3 steps, we will take care of everything else, you  must just wait for the recipient's thanks.
---
STEP 1:
In this phase you can choose the delivery date and time slot and enter a message to deliver with the bouquet; if you're out of ideas, there are many messages already available for every occasion to use as they are or to edit according to your needs.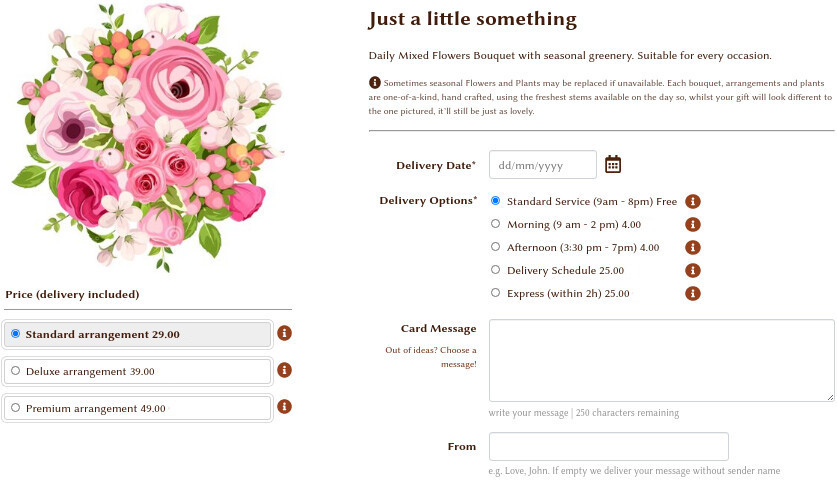 You can also add a gift to the bouquet to make your gesture more surprising and unique. Many gifts are available: jewels, fashion accessories, books, stuffed animals, personalized gifts and many more.

---
STEP 2:
Choose a payment method from credit card, debit card and other available options.
Enter your contact details, name, email, but above all your mobile phone number so we can call you in case we need urgent info about the delivery.
In addition, enter the data of the recipient of the floral gift accurately and with a valid mobile number so that we can immediately contact the recipient in case of need.
In this phase, you can choose whether or not to contact the recipient before delivery, however in rare cases this option may not be respected if there is an urgent need to contact the recipient to make the delivery.
Finally, a "notes" field is available to enter further information regarding the delivery or for specific requests. We will certainly evaluate any special request written in the notes, but they are not binding.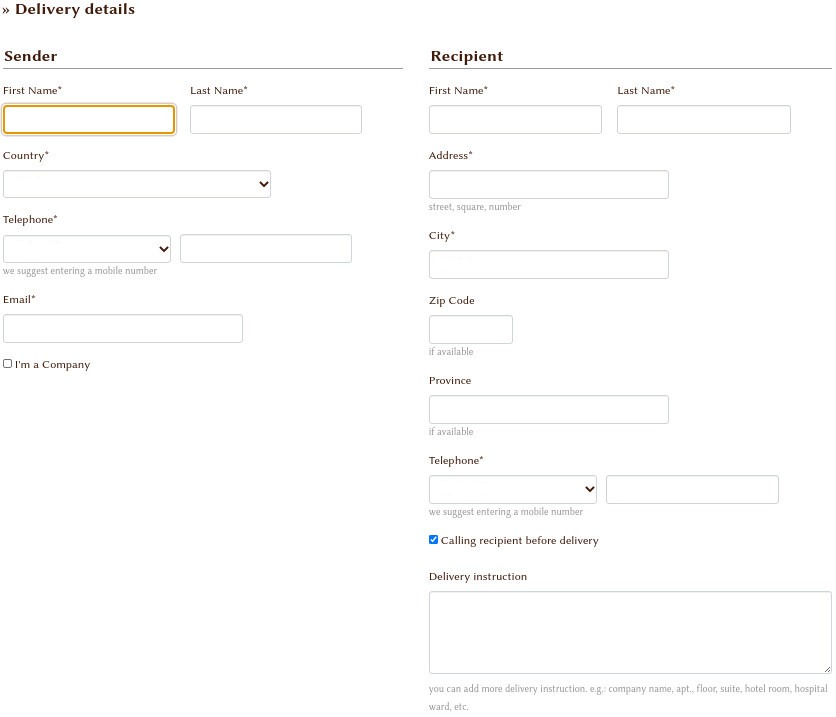 ---
STEP 3:
To conclude, the payment page will open based on the choice made in the previous step. Enter your card's data in complete safety as the connections to the payment gateway's servers are secure and encrypted with the most advanced security technologies.
Upon payment, you will receive a confirmation email with your order's summary, the receipt of payment and the link to track the status of the delivery. An SMS will notify you upon delivery.
And now...all that's left is to wait for the compliments and thanks of your loved one, certain that you have entrusted your order to professionals who have worked in this field for years with care, passion and kindness.
---
Some precautions regarding "special deliveries":
You can send flowers not only to private residences but also to churches, hotels, resorts, campgrounds, public offices, hospitals, mortuaries, airports, ports, cruise ships and nursing homes in Valdeganga and its surroundings.
To accept "special" orders besides the regular contact information we need:
Funeral deliveries: a phone number of a relative or a person on the spot, the exact time and location of the funeral service and the name of the church (or mortuary, nursing home, chapel...).
Deliveries to hospitals, clinics and nursing homes: enter the ward, the floor and the room or number of the bed.
Deliveries to hotels and campgrounds: the name of the touristic facility, the surname used to check-in and the room number.
Deliveries to offices, companies or public places: the number of the company or office and a phone number of the recipient (internal or similar).
Deliveries to ports, airports, cruise ships: we are often forbid from entering these places, so it is essential to call the recipient beforehand, as he will have to show up at the entrance to collect the flowers.
Try our service now, buy your flower arrangement online, choose from today's offers, order now in a few minutes:
Thanks for choosing our flower shop Paichi Floristería. Remember...giving a flower is worth more than a 1000 words!